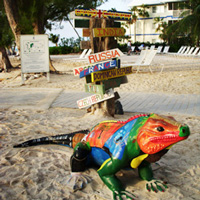 Secreted away in an isolated corner of the Western Caribbean, the Cayman Islands offers visitors a unique combination of modern amenities, old world charm and unspoiled wonder. Each of the three Cayman Islands (Grand Cayman, Cayman Brac and Little Cayman) shows you a different side of this special little country.
Around every palm tree and under every shell, you'll discover something new and exciting.
If you're new to our shores – Welcome! We're happy to have you here. And if you've never been and you're just now making plans, let us help you find your way.
Your visit can start right now, with a collection of resources you can use to make the most of your Cayman Islands experience.
---
ABOUT THE CAYMAN ISLANDS
QUICK FACTS
Start here with a small collection of facts and tidbits about the Cayman Islands to enhance your visit. You'll be able to quickly familiarize yourself with our environment, people, economy, lifestyle and laws and ensure that your trip is as smooth and enjoyable as possible… take a snapshot of the Cayman Islands with these Quick Facts
GENERAL INFORMATION
These three tiny islands were first discovered by Christopher Columbus in 1503 on his fourth - and final - voyage. Originally uninhabited, it hosts a colorful history of various settlements by pirates, escapees from the Spanish Inquisition and even deserters fleeing Oliver Cromwell's army. The history of the Cayman Islands and its people is one of rugged self-reliance and a love of the sea and the beautiful natural environment. Boasting some of the most beautiful beaches and incredible diving sites in the world, whether land or sea - the Cayman Islands do not disappoint... find out more About Cayman
SIGHTS & ATTRACTIONS
Blessed with natural beauty, the Cayman Islands have long been a favorite destination for visitors from all over the world. Spectacular oceanscapes, beautiful beaches and stunning coral reefs headline the natural sights, along with an array of interesting manmade and discovered attractions… have a look at the Sights and Attractions in the Cayman Islands waiting for you.
Cayman Island Hotels and Resorts
Accomodations in the Cayman Islands are the top in the region and amongst the best in the world. Whether you're visiting on business, planning an eco-adventure, looking for resort luxury or taking a family vacation, you'll find something suited to your plans awaiting you here. From five star resorts to dive lodges and boutique hotels, your trip is certain to be comfortable and relaxing... choose the Caymanian Experience you want.
Our Directory has Contact Details for:
Restaurants
Bars
Hotels & Resorts
Entertainment
Cayman Islands Dining
A jewel of the Caribbean, the Cayman Islands boasts a truly global environment when it comes to its population and its culinary diversity. Our wide selection of restaurants will offer you gourmet options from around the world, mixing traditional Caribbean cuisine, Far Eastern flavors, Continental choices and so much more. Our restaurants and chefs consistently rank amongst the best in the region and around the world.
The Sister Islands
Of the three Cayman Islands, Grand Cayman is the largest, as well as the capital and population center. But all three islands have something to offer. The two smaller, Cayman Brac and Little Cayman, are referred to as the Sister Islands and have distinct personalities of their own and more experiences visitors. A little more off the beaten track, the Sister Islands offers the adventurous visitor an off the beaten track look at the Cayman Islands. Interested? Find out more about... the Sister Islands.