Lisa Carlisle St George's Day Banquet Fundraiser has been postponed due to the Iceland Volcano situation. Please check back frequently for an update on the new date and learn more about Lisa Carlisle.
Click link below for more information on Lisa Carlisle
www.lisacarlisle.com
Colin was born in the UK but has lived in the Cayman Islands for 27 years. He studied drama with the J. Arthur Rank Organization – at that time the leading British Film Company. Colin was founder and Managing Director of CITN the Island's longest serving TV Station, Member of the Cayman Drama Society where he was chairman on four different occasions. He served on the Pirates Week National Festival Committee for over twenty years and was Landing Chairman for seventeen years. He is an actor, director, producer and now a fulltime professional award winning playwright and movie screenplay writer. His screenplay "When No One Is Looking" is currently in production. Colin is a full member of The Writers Guild of Great Britain, Member of the American Association of Community Theatre and Member of the Chartered Institute of Management.

All his published plays are available from New Theatre Publications on website www.plays4theatre.com and can be adapted by him to suit different casts. Film producers may access his screenplays on the website www. Inktip.com. Commissions are also invited.
Colin "CG" Wilson

C G Wilson's Published Plays:
CRY IN THE NIGHT
(former title "Girl in a Wheelchair")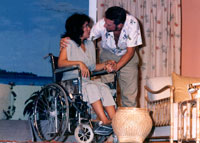 A young woman (Christine), now a paraplegic after an automobile accident, returns to her wealthy father's home on a remote island in the Caribbean to recuperate. Her father has remarried and she meets her new mother, sister and brother, but her father has mysteriously disappeared. A doctor and 'close friend' of her father's arrives to inform her that he has known her since her birth. She, however, has no recollection of him and she notices a strong intimacy between this doctor and her stepmother. Then she hears 'cries in the night' that lead to the play's terrifying climax and surprise ending.

4m + 5f