Butterfield Bank (Cayman) Limited
Bank Here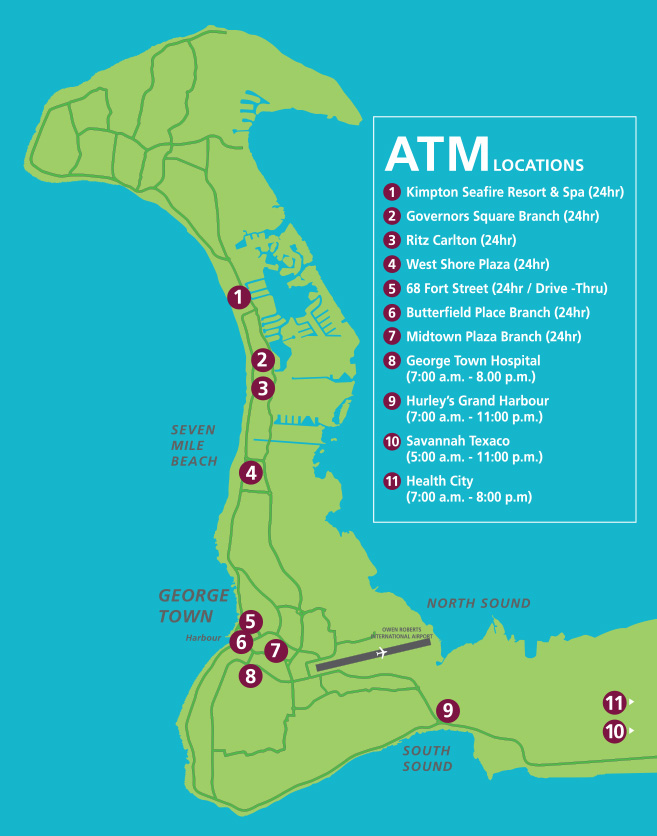 Our three Banking Centre locations - butterfield Place has ATMs with 24 hour access, Midtown Plaza and Governors Square both have two 24 hour access ATMs.
Butterfield House on Fort Street has a 24 hour access Drive through ATM.
The Ritz-Carlton has a 24 hour access ATM.
George Town Hospital has a 24 hour access ATM located inside the main entrance.
Hurley's Marketplace, Grand Harbour, Shamrock Road (Please note that our Hurley's ATM is available only during store hours: Monday to Saturday: 7:00 am - 11:00 pm).
West Shore Plaza has 24 hour access ATM services conveniently located off of West Bay Road.
Savannah Texaco has ATM services from 5am until 11pm Monday to Saturday.
Health City, High Rock, Seaview Road has 24 hour ATM services located inside the entrance.