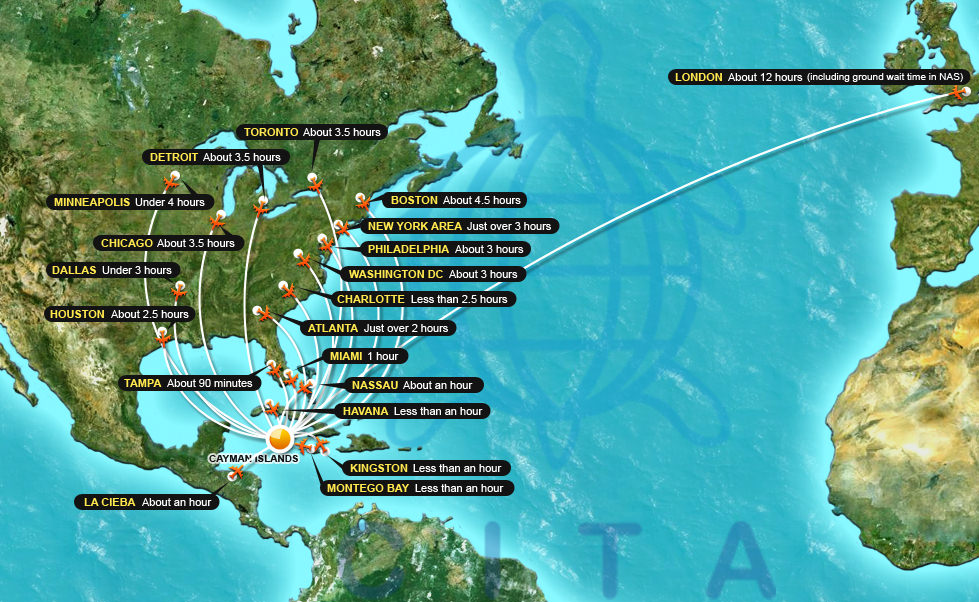 CLICK HERE FOR TIPS ON HOW TO GET TO AND AROUND THE CAYMAN ISLANDS!
---
Arriving by Air
When arriving to Owen Roberts International Airport (GCM), you will be struck by its unique character. You descend from the plane by an open stair and walk past the official welcome band playing Caribbean music, which provides a true Caymankind welcome. After passing through the Arrivals Hall, you collect your luggage from the world's prettiest baggage carousel, which is decorated by Cayman's own Cathy Church, a noted underwater photographer.
Stop at the Department of Tourism information booth for ideas on how to make the most of your Cayman vacation. Continue through Customs and step into the sunshine, where ground transportation is ready to whisk you away to your vacation in paradise!
Many major international airlines serve the Cayman Islands from various destinations around the world.
American Airlines (CITA Member)
Cayman Airways (National Carrier)
Miami Air International (CITA Member)
and many more, see here for additional information.
---
Arriving by Sea
Cruising to the Caribbean is a great way to dip your toes into the Cayman Islands. Cruise ships that visit Grand Cayman's port in George Town stop for the day, giving passengers a small sample of Cayman. We hear time and again from visitors that their first trip to Cayman was on a cruise ship—and they loved it so much that they returned for a longer stay! Visiting Grand Cayman on a cruise ship will tempt you to include the Cayman Islands on your next Caribbean adventure!
Currently Grand Cayman has three crusie terminals where passengers disembark: the North Terminal, the South Terminal and the Royal Watler Terminal. Currently the Cayman Islands has no berthing facility for the cruise ships, so passengers are ferried by tender from the crusie ship to the terminals, which takes about five minutes (excluding loading and disembarking).
VIEW CURRENT CRUISE SHIP SCHEDULE FOR GRAND CAYMAN
Various cruise lines visit the Cayman Islands on a regular basis, including but not limited to:
Carnival Cruise Line
Celebrity Cruise Line
Disney Cruise Lines
Norwegian Cruise Line
Oceana Cruises
Princess Cruises Inc
Royal Caribbean Cruise
Click Here for additional information, including private charters, yachts and marinas.