Miss Lassie''s House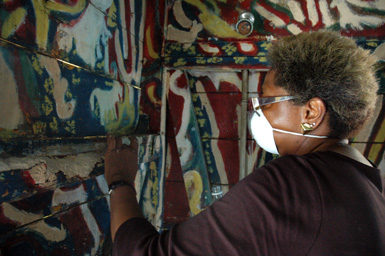 Gladwyn K. Bush (1914-2003), known as Miss Lassie, was a visionary artist who left an important mark on the cultural history of the Cayman Islands. Born on Grand Cayman, Bush worked as a nurse and shopkeeper, and was 62 when she began to create art inspired by Christian visions and Caymanian seafaring culture.
Bush's visionary markings now adorn the interior of her house, which has been declared a Site of National Historic Interest, one of only six in the Cayman Islands. Mind's Eye is a nineteenth-century traditional wattle-and-daub house, built by Bush's father and grandfather, with a rear addition. Bush painted Biblical scenes and vivid, colorful abstract scenes on the doors and windows of the original house, as well as every surface of the rear addition and the outdoor kitchen, known locally as a cookrum.
Miss Lassie's House is located on a white sandy shore near George Town, in an area now rapidly changing with new beach-front developments. Hurricane Ivan devastated the Cayman Islands in 2004 and destroyed Miss Lassie's outdoor kitchen. The house was purchased by the Caymanian government in 2008.
Today the site is managed by the Cayman National Cultural Foundation, which has mounted a campaign for the restoration of the site, bringing together government agencies, private organizations, local businesses, and schoolchildren to assist with these efforts. The house opened to visitors in April 2011, but considerable resources will be needed for its long-term preservation and interpretation.
For more information on Mind''s Eye email [email protected] or call us on 949-5477