The Clear Way to Amazing Results…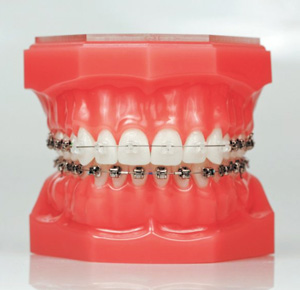 Braces no longer mean inconvenience, discomfort and a mouth full of metal. DAMON®CLEAR™ is part of the DAMON® System, a completely new treatment approach. They allow for fast, low friction tooth movement. The Damon System combines tie-less braces with memory-shaped archwires to move teeth quickly, comfortably, and with truly spectacular smile and facial results.
Virtually Invisible…
With Damon Clear, people may not even realize you're wearing braces. They are discrete, easy to keep clean and resistant to staining and discolouration.
Fast Treatment…
While treatment time may vary, studies show that treatment with the Damon System is up to six months faster than with traditional braces.
Greater Comfort…
Damon Clear braces are small and designed with ultra-smooth contours that are gentle to teeth and the tissues. Clinical studies show that the Damon System provides more comfortable treatment than traditional braces.
What You Can Expect With Damon Clear Braces…
A crystal-clear design that is virtually invisible
Resistant to staining and easy to keep clean
Exceptional comfort without tightening
Fewer office visits and fast results
Bite correction, smile arc and proper alignment
Outstanding results that improve the way you look and feel
Show your smile not your braces!! DAMON®CLEAR™