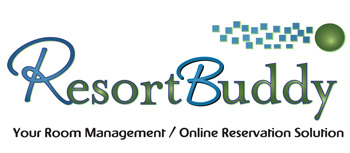 There are many software packages out there that are designed to allow hotels, guest houses
and other properties with short term rentals to manage their bookings. Most options are often
extremely complicated to use, not integrated with live website bookings, or far too expensive as
a realistic option for smaller properties. And, if it IS possible to customize these packages to
suit needs that are specific to your resort, the additional cost of this is through the roof.
Let me introduce you to Resort Buddy!
Resort Buddy is designed specifically for use by smaller properties such as boutique hotels and
resorts, guest houses, and private condominium rental pools to allow EASY and FLEXIBLE room
management at a fraction of the cost of bigger, generic packages.
Resort Buddy fits YOUR needs, not the other way around. We offer LIVE online booking capabilty
and have an excellent back-of-house reports and adminstration module that gives you the tools
and information you need without requiring the user to have degree in computer software.
From pre-arrival until departure, Resort Buddy is a valued asset to the company.
Some of Resort Buddy highlights include:
Take Live inventory online bookings
Incrediby easy to use for all staff
Customize sepcifically to your needs
No yearly licensing fee
Pre-purchase trial onlline demo
(345) 623 8488
(305) 721 8503
www.resort-buddy.com