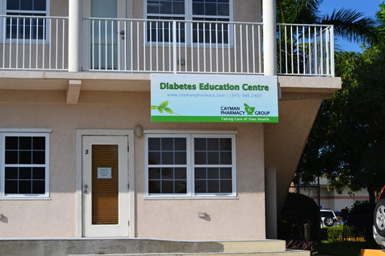 The Cayman Pharmacy Group initiated a Diabetes Education Centre at CTMH in June 2011 for the benefit of all Diabetes patients in the Cayman Islands.
The primary purpose of establishing the Diabetes Education Centre is to expand the volume of education and encouragement opportunities available to those with Diabetes in order to empower them to self manage their disease in collaboration with regular and ongoing support from all their key healthcare providers.
In order to facilitate the development and implementation of a Diabetes Education Centre and its Programmes, the Cayman Pharmacy Group invited Ms. Andrea Hunt to join our team. Ms. Hunt has been a Certified Diabetes Educator for nearly 20 years and has extensive practice in providing education and training to people with diabetes, instructing and reviewing in Diabetes Care, as well as training of a variety of healthcare professionals to become Caribbean Certified Diabetes Educators.
It is our hope that patients who attend the Diabetes Education Centre Programmes will find improved health outcomes over the initial six months and beyond, and that they will demonstrate improved self management skills so as to prevent the progression of the disease and its complications.
For more information or to book an appointment, please contact the Diabetes Education Centre at Chrissie Tomlinson Memorial Hospital:
Phone: 946-2407
Fax: 946-0064
Email: [email protected]